22 SQUADRON ASSOCIATION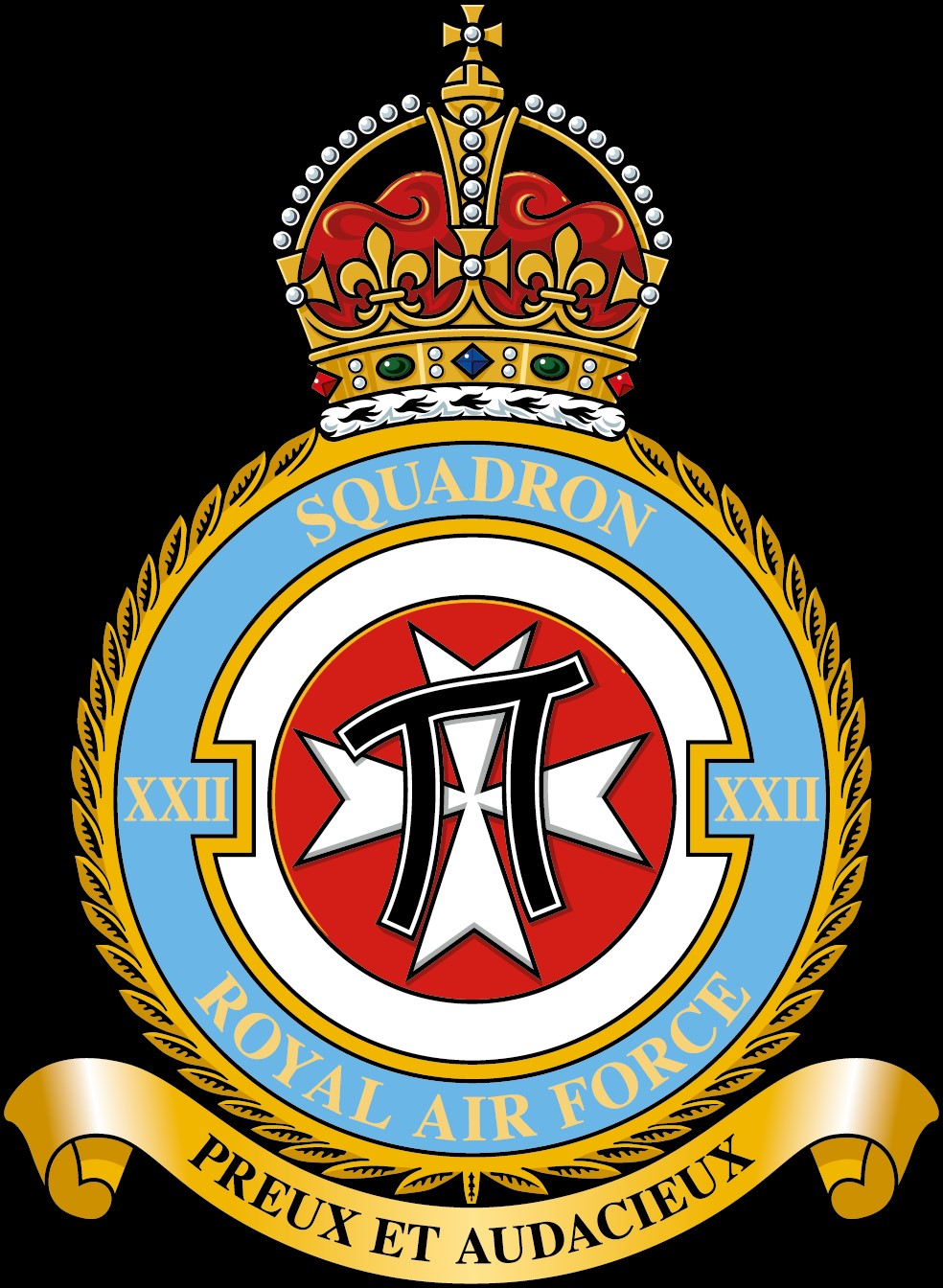 Valiant and Brave
FORMATION OF THE 22 SQUADRON ASSOCIATION
The 22 Squadron Association was formed following the disbandment of 22 Squadron in 1946. However with time, the membership level of the 22 Squadron Association fell to a point where the Association could not be sustained on its own and, in 2000/2001, the 22 Squadron Association was amalgamated with other ex-Beaufort Squadron Associations to form the Beaufort Association. The old 22 Squadron Association ceased to exist as a separate organisation.
22 Squadron was re-formed at Thorney Island in 1955 as a Search and Rescue Helicopter Squadron.
Coincidentally in 2001, it became evident that there was no active Association for members of the re-formed, Search and Rescue Helicopter, 22 Squadron and a positive move was made to reform the 22 Squadron Association. As many past and present members of 22 Squadron as possible were contacted. By March 2002 almost 100 positive replies had been received and an inaugural Meeting and Reunion was held in Barnstaple, close to the 22 Squadron Headquarters and A Flight 22 Squadron. The Meeting and Reunion was a great success.
22 SQUADRON ASSOCIATION
The 22 Squadron Association is now well established, having combined the "Old 22 Squadron Association" with the "New 22 Squadron Association". Membership of the "Old Association" was transfered to the 22 Squadron Association with Life Membership; no further Life Membership is offered. The cost of membership of the 22 Squadron Association is: a joining fee of £10.00, which includes the first year's subscription fee; subsequent fees are set at £ 6.00 (£5.00 if paying by standing order) for each year of membership.
The aim of the 22 Squadron Association is to form a lasting bond between 22 Squadron and all its present and past members, aircrew and ground crew, fixed wing and rotary wing crews alike.
22 SQUADRON ASSOCIATION REUNIONS
The 22 Squadron Association holds an Annual Meeting and Reunion Dinner over a weekend, usually in May or June, in a hotel at a central location in the UK. Visits to the 22 Squadron or Flight Headquarters, military aviation organisations, or other venues of general interest are organised. The Dinner is planned to set the standard for a most enjoyable and informal weekend where members can renew old friendships and meet new friends with similar experiences and interests.
All past and present members of 22 Squadron are invited to join the 22 Squadron Association. ""Friends" of 22 Squadron may also be offered Associate Membership.
Please contact a member of the 22 Squadron Committee for further details.